Planned maintenance and our modernisation programme
As well as developing and building our new homes we have detailed plans to ensure our existing homes are maintained to a high standard.
Our Home Improvement Team
Our home improvement team have skilled trades which will help us provide a high-quality maintenance and repair service carrying out planned and reactive repairs. We own and manage 3000 quality homes, so this team will concentrate on a programme of works to replace kitchens, bathrooms and windows when required.
We occasionally get feedback expressing concerns that we are too focussed on investing in new build homes and we are not interested in upgrading our existing properties. Our strategy sets out the vital importance of doing both of these things.
Investing in new homes is funded by a significant grant from the Scottish Government which we match with money we are able to borrow to build these homes (effectively, similar to a mortgage). This work helps us ensure that we are doing our bit to meet the need for more affordable homes in our communities and to take some pressure off those seeking to access our current homes.
In addition to this, we continue to invest heavily in our approximately 3,000 existing homes. The funding for this is supported by your rents and is predominantly driven by internal resources – although we occasionally get the opportunity to bid for other funding to either try something new or do things more quickly.
It is important to understand that it is not possible to take the money that we are investing in new homes and put all of this into upgrading our existing homes more quickly.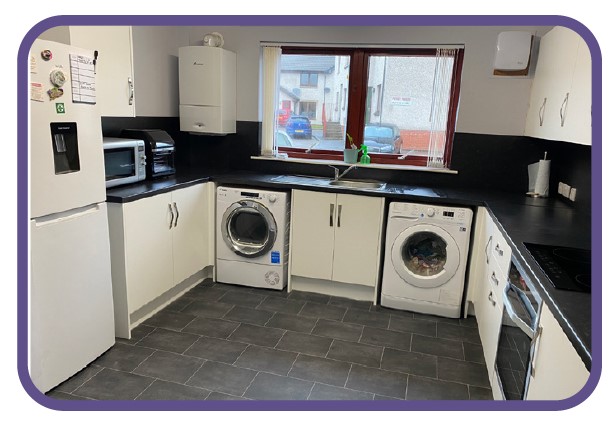 "I am elated with my new kitchen! The guys who fitted it were absolutely brilliant too. Five star plus. What a great team. They definitely went above and beyond and at times didn't even take a break. They worked with no mess and kept everything clean and tidy. It's fantastic."
"They have managed to do a marvellous job. They were all so polite, clean and tidy, and they did a great job of my new bathroom. They are all very skilled tradesmen. Eildon are excellent landlords. I used to own my own flat so appreciate how much all these things cost."
Planned maintenance includes
We have an ambitious programme this year, with the aim of delivering more home improvements than ever before through our in-house multi-trade HIT team and some through external contracts.
We are slightly behind schedule on some of our modernisation through the 'lost two years' due to pandemic restrictions and other things like redirecting tradespeople to meet the new fire safety requirements. However, we are now in a much better position to share details of the developments that will see upgrades in the near future.  Keep checking back, as we will be looking to share our longer-term programme very soon.
While it's always difficult to say we will definitely deliver every project we aim to, this is our indicative plan for the year.  For tenants living in the developments identified for improvements in their home, we will keep in touch with you over the coming months on our timescales and arrangements.
Our investment this year aims to deliver:
100 Kitchens at:
| | |
| --- | --- |
| High Tweed Mill, Galashiels | Renwick Gardens, Morebattle |
| Kingsland Square, Peebles | Thomson Court, Clovenfords |
| Ruberslaw Drive, Denholm | Rosewood Gardens, Kelso |
| Duns Road & Templar Court, Greenlaw | The Cornmill, Hawick |
| Bridgend, Innerleithen | Jubilee Square, Earlston |
86 Bathrooms at:
Larchbank Street, Galashiels
Mill Court, Stow
Jura Drive, Tweedbank
Provost Walker Court, Peebles
63 Heating Replacements at:
Drumlanrig Court, Hawick
High Tweed Mill, Galashiels
Rennie Court, Kelso (1-18 properties)
63 Windows and Doors Replacements at:
| | |
| --- | --- |
| Jura Drive, Tweedbank | Eildon Crescent, Melrose |
8 Boiler Replacements at:
Kingsland Square, Peebles
As a tenant you will be notified when work is planned in your area and we are ready to start surveying kitchens and measuring up bathrooms. At this stage we'll then be able to give you clearer details of the work being carried out and of the start date.