Poynder Apartments opens up for informal preview
Eildon's much awaited renovation of the historic site of the old Kelso High School on Bowmont Street opened its doors for an informal viewing on Wednesday 28 and Friday 30 June 2023. Now called Poynder Apartments it comprises 36 extra care apartments for older people with a range of communal facilities available for use by tenants and their family, and the wider community.

Visitors included key stakeholders involved in the renovation project, neighbours and members of the local community who were invited to see first-hand the transformation of this magnificent art deco listed building. 

Many of the visitors mentioned they were former pupils of the school and remembered the gym hall which has been converted into a community hub/dining space where meals will be served daily, and a range of social gatherings will take place – as well as a hairdresser suite. Other visitors remembered being in the old rector's office at the grand entrance, now a meeting room.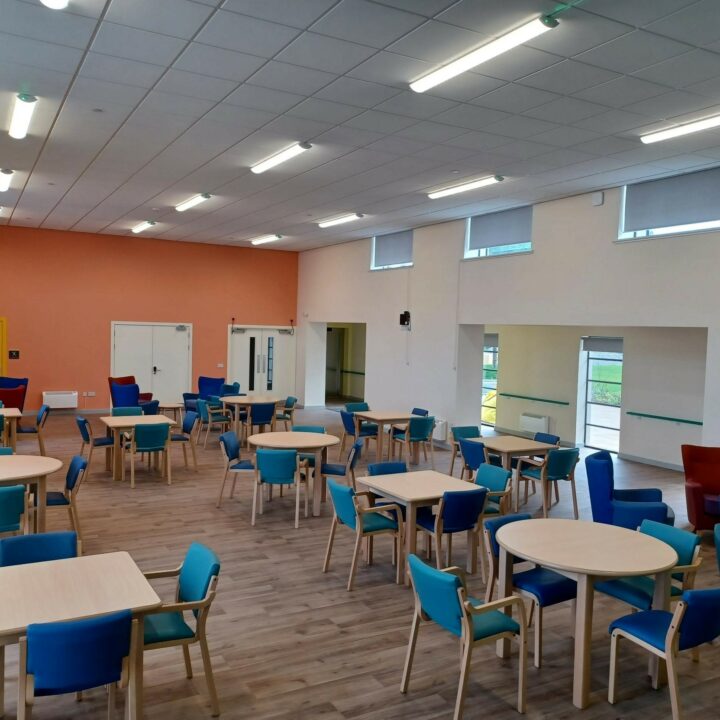 Eildon's Chief Executive Nile Istephan expressed the heart-felt satisfaction of all involved in this exciting project as we now see Poynder Apartments come to fruition during Eildon's landmark 50th anniversary. He said, "Eildon could not have achieved this marvellous £7.3M project without construction by local builders M & J Ballantyne, and without the financial assistance from the Scottish Government and Scottish Borders Council."

"What was a derelict school building has had a new lease of life and will continue its sense of community spirit in the heart of the town. Due to much careful and considered planning, the heritage of this wonderful 1930s art deco design has been preserved. Our plan is for approximately 30 new staff members to start on site, led by new Extra Care Manager, Debbie Hardcastle, from 1 August, with new tenants moving into their flats by mid-August which is a thrilling prospect."

Alasdair Rankin, Managing Director of AitkenTurnbull Architects said "We were delighted to be involved with such a key renovation project within the Scottish Borders.

Housing needs to provide more than just shelter and security, it needs to give a sense of community, belonging and pride to those who live there as well as giving something back to the wider community. The renovation and rejuvenation of the former Kelso High School into the new Poynder Apartments does all of this.   

Opportunities like this are rare, the combination of a forward-looking client, a committed contractor and an engaged design team coming together to revitalise a much-loved local landmark preserving its heritage and securing its future for the residents and the people of Kelso." 

Grant Davidson, Director of M & J Ballantyne, said, "Since our purchase of the former Kelso High School campus in early 2019 a huge amount of work has been carried out to sympathetically repurpose the main buildings into much needed extra care housing and redevelop the wider campus into what will become a terrific place to live for those of all ages."

"Working in partnership with Eildon Housing Association Ltd. we have gone to great lengths to invest the majority of the project value back into the local economy by utilising local suppliers, local tradesmen and providing support for much needed apprenticeships within the construction sector.  Poynder Apartments is a project we are proud to have delivered."

Poynder Apartments is a mix of one and two bedroom flats, providing onsite care and support services to people aged 60 years and above. A range of communal facilities is available for use by tenants and the wider community, including a community hub where meals will be prepared and served, a hairdresser suite, and a place for social activities. Not only is it providing much needed homes, but this new development has created new jobs, bringing a boost to this area, which is part of Eildon's strategy investing £137m in new homes in the Borders up to 2027.
For more information, email kelsoextracare@eildon.org.uk.